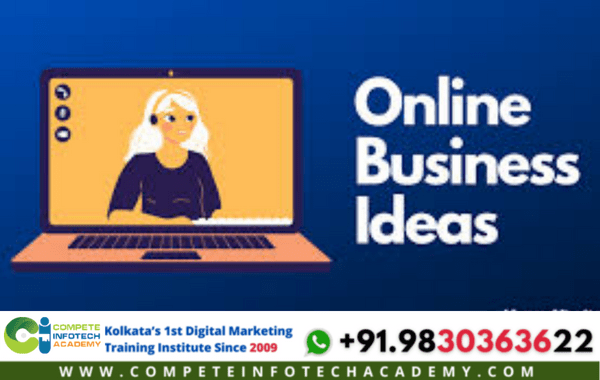 List of

Top 15

Online Business Ideas
When you are dreaming of opening your personal business, you may be thinking of four white walls with a mess of boxes to unpack in any particular commercial space. However, it is always not to be done in that way. With today's advanced technology, you can start doing business online and it can be done often with little cost to no cost. Here are 15 great online business ideas with the help of which you can think of starting any online business:
 SEO Consultant:

If you have knowledge about the ins and outs of search engines and have good skills in platforms like Google Analytics then you must go for this online business. There are lots of smaller companies who don't realize the exact impact of search engine optimization (SEO) on their business. By doing this business you can educate those business owners on the power of SEO and make them trained to transform their websites into a more SEO-friendly websites. Use your skills and ability to show them how to read and use their analytics data in a right way, and how to properly use keywords to get more load.

Business Coaching:

If you have a great idea of business experience and knowledge you can create a business that helps aspiring entrepreneurs to find success. By using your skills you can help new business owners to make a good start and help experienced entrepreneurs to grow with demand. To flourish your knowledge and skills you can also write articles about basic things about business on LinkedIn.

Specialized Retailer:

There's always a purchaser for everything. So, keeping in mind this factor you can start a specialty e-commerce store by which you can reach to those customers who are in need of your specific products. All you have to do is to create a web-hosting service with an integrated shopping cart feature and your business will be




in running mode in no time. You can make contact with vendors who can ship your products to customers on your behalf. So, you don't have to need a lot of inventory.

Social Media Consultant:

Larger companies have the capacity to hire a media consultant agency to run their Facebook and Twitter accounts, but small companies often have to handle their all social media marketing alone. With lots of responsibilities, business owners are getting sometime too busy to understand the importance of social media




and spend more time in developing and implementing a great social media strategy. Being a consultant, you can help them to adopt the best tactics, help in posting proper schedules and content for their target audience.

Web Design:

If you are well-know about HTML and have a good choice for design; you can choose your business of Web Designing and launch a service to create attractive, easy-to-use websites for small businesses. Just put your skills for those business owners who want to take their online appearance to the next level. Before that first build a comprehensive portfolio, and then design your own website to attract a steady stream of clients.

Resume/cover letter writing: It's a tough truth that a standout resume and cover letter can out you from the entire process when you're applying for any job. You can devote yourself by helping others to get hired with the solution of a good resumes. You may capitalize mainly on the increasingly important social media for branding bandwagon


and offer to fix LinkedIn profiles as well.

Assistant/Task Manager:

If you have flawless organizational skills and good cleaning skills or you can quickly and efficiently carry out these tasks, then it's time to put those skills to good use by becoming an online personal assistant or task manager. There are many companies like TaskRabbit or Zirtual which allow you to sign up for tasks you want to complete which includes data research, virtual assistant or running errands and you can start building client portal. This can be a very good online business idea for you.

Professional freelancer:

You may not think about freelancing as a business. But there are more and more companies which are turning to part-time contract workers to fill their skill gaps so it's not very hard to imagine providing businesses with a variety of freelance services. Depending on your skill sets and ability, you may work for multiple companies offering various fields that offer you flexibility of time and a refreshing change of tempo. Some well-known freelance job listing websites fields which are good for contract jobs are Freelancer.com, tech services, content creation and web design.

Remote Technical Support:

There are many small businesses who really don't have a proper room within their budget for a full-time IT employee, so when their systems breaks down they usually call a computer-knowledgeable friend or any family member who can sort out their problems. If you have proper experience in working on computers and networks, you can easily solve their problem to make call in a favor and offer immediate remote technical assistance.

Virtual Consignment Store

:

Bargain hunters and frugality store enthusiasts can turn into a nice profit of reselling their vintage clothing finds. You can brand yourself by creating an independent website of your own as your virtual storefront, but always use a managed service like Google Checkout to handle all transactions. You can give high- resolution images and catchy copy for your products which will make your distinct stand out in the sea of internet users trying to sell their used item. You can use this online business idea for making a good amount.

Handmade Craft Seller:

There are many recognized online sites like Etsy and ArtFire which are the platforms that make it very easy for those crofters who can produce a continuous supply of quality handmade items like crocheted blankets, brass sculpture or unique painted glassware. Startup costs will be very low if you purchase your all materials in bulk from a good craft supplier, and if you started to deliver your orders quickly, you'l definitely make a good profit in no time at all.

App Development:

Mobile applications are getting more and more popular than before and people are more willing to pay good money for ways to manage their lives from their smartphones. If you have a great idea about coding then you can run with it and create your app yourself. But if you just have a superficial idea and don't have the knowledge of ins and outs of how to turn it into a reality, then there are plenty of software developers you can look for collaborating with people regarding the app creation.

Blogger:

If you have good knowledge of words, then you can turn this into very good online business idea. You can completely personalize your blogging experience and reach millions of people across the world with the freedom to create your own idea and style your platform the way you desire. The larger the people, the higher the chance that you will be able to create a successful business out of it.

Bridal Concierge:

The wedding industry is now–a-days very booming and bearing all stress and pressure that every couple face during their engagement, it's nearly become very impossible for brides-to-be to enjoy their wedding planning in a wonderful way. If you have a knack for organization party and functions and a passion particularly for weddings, then you can easily start your own career as a bridal concierge and can provide online makeover tips to the will-be couples.

Affiliate Marketing:

If you're a kind of person who loves to write customer reviews on various sites like Amazon, then stop doing it for free. Today advertising through word- of-mouth is still a big lead generator for many companies, and there are a lot of businesses which are willing to share a portion of their profits with such convicting individuals who will promote their products to the public by adopting this word-of- mouth method. If you possess a personal website with a large following of people then this might be more easy to accomplish.
There are more online business ideas which you can adopt and make money from there. But these are some chosen one which is proved to be more effective and solid. So, choose anyone and start even from tomorrow.